Better Building Begins Here
Local 825 Operating Engineers are highly trained and experienced heavy equipment operators, mechanics, and surveyors who offer unsurpassed productivity to contractors throughout New Jersey and five counties in New York's Hudson Valley.
Our more than 7,500 members are part of the International Union of Operating Engineers, comprising a workforce of 400,000 throughout the United States and Canada.
With our training, experience and drive, we build value for our contractors. We do the job right the first time, on time and on budget. In exchange, we ensure that our members are treated fairly and viewed as part of the team.
100 Years of Better Building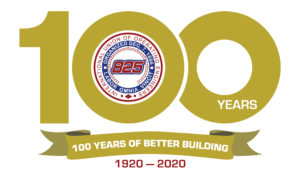 During 2021 we continue to mark the centennial of our charter as Local 825 of the International Union of Operating Engineers. Many of the events we had planned to celebrate during 2020 were canceled due to the COVID-19 pandemic.
From our charter in 1920, our members have helped to build the major crossings of the Hudson and Delaware Rivers; the highways and transit systems that crisscross our communities; the highrises, stadiums and other megastructures that define our skylines and define our daily lives. It is interesting to note that our 100-year history has been bookended by global pandemics … the Spanish flu of 1918-1920 and the covid-19 virus of 2020-2021. Not to be deterred, we continue celebrating our Local's 100-year anniversary throughout 2021.
New Mission Statement:
Prepare for a Changing World
Recognizing the rapid changes in the workforce and technology, Local 825 has updated its mission statement to prepare its members for the challenges and rewards that face them.
The new statement reads:
The International Union of Operating Engineers (IUOE) Local 825's mission is to equip its members with the educational resources for developing the skills of their apprentices and journeypersons. It is to recruit a diverse membership and operate under a strategic plan to create an inclusive environment. By facilitating the training needs of our members, we maximize their employability and prepare them for changes in the industry. The Department goal allows members to acquire new skills and remain competitive in the industry, while remaining fiscally responsible to the beneficiaries of the fund.
November 20, 2020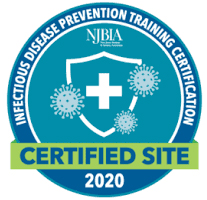 Local 825 has earned the healthy and safe workplace certification from the NJ Business and Industry Association following the successful completion of an NJBIA training course. It teaches
How to develop a step-by-step Healthy Workplace Environment Guide
The best cleaning and disinfection procedures
On-site health screening procedures
Personal Protective Equipment (PPE) requirements
Social distancing strategies
Protocols for isolating employees who become ill at work
The course adheres to the standards and regulations set by OSHA, the Center for Disease Control & Prevention (CDC) and the World Health Organization (WHO) to make sure all employees function in a healthy work environment.
September 25, 2020
It's easy to obtain a flu shot, at your physician's office by using your Horizon Card or at many major pharmacies by using your OptumRx Card.
Flu shots are also available in the pharmacy department of many supermarkets, so on your next trip for milk, eggs, and bread, you might want to step up to the pharmacy counter to inquire.
It's not too early to get your flu shot! Stay safe! Stay healthy!
LEARN MORE: It's More Important Than Ever to Get a Flu Shot
July 20, 2020
ANNOUNCEMENT REGARDING THE LOCAL 825 DISTRICT 1 AND 4 HEALTH FAIRS
Dear Members:
As always, the health and safety of our members, employees and colleagues is our top priority. Therefore, we are implementing processes to address safety, health and wellness concerns overall. As such, we must consider the manner in which business is conducted for our organization.
We regret to inform you that the September 23rd and October 14th Health Fairs will be cancelled. We hope to reschedule these events later in the year and will keep our members up to date with the most current information. You may also check for updates on our website www.825Funds.org.
If you have any questions or concerns, please contact the Funds Office at 973-671-6800.
Sincerely,
Welfare Fund
Local 825 Welfare Fund
April 7, 2020
The Local 825 Health Fairs that had been scheduled for May 13 and June 10 have been canceled. Efforts will be made to reschedule them in the coming months. We will advise of any updates as plans are made.
April 6, 2020
Local 825 establishes a COVID-19 Response Unit and Hotline. Click here for details and updates.
April 3, 2020
Another extension has been added to the deadline to apply for a Local 825 scholarship. Applications may be submitted now up to April 17. Click here for more information.
March 17, 2020
Over the past two weeks we have taken a variety of steps to help ensure the health and safety of our members.
All District meetings through the month of April have been canceled. Check back on this page periodically for updates.
Office visits from members and non-essential guests will be suspended into Local 825 main office in Springfield, all satellite offices and training centers. To ensure our members' needs are addressed, we will operate as follows:
S.U.B.
Drop off applications and pick up of checks are suspended. Applications may be filed online, mailed to the SUB Department at 65 Springfield Ave, Springfield, NJ 07081 or placed in a secure box located on the first-floor lobby at 65 Springfield Ave., Springfield NJ 07081
Pension and Annuities
Mail applications and other written communications to the Pension/Profit Sharing Department at 65 Springfield Ave, Springfield, NJ 07081 or place them in the secure lock box in the lobby.
Eligibility
Mail payments and other written communications to the Eligibility Department at 65 Springfield Ave, Springfield, NJ 07081 or place in the secure lock box in the lobby.
Welfare
Claim Forms may be mailed to the Claims Department at 65 Springfield Ave, Springfield, NJ 07081 or placed in the secure lock box in the lobby.
Training Centers
Training Centers will cancel all classes and training initially through Friday March 27. A decision will be made by then whether to open or continue the cancelation. Watch here for updates.
Dues
Please pay dues on-line at www.IUOE825.org or call 973-671-6918 or 6917 for assistance.
Dispatch
Please call 973-671-6900 for assistance.
Business Agents
In-person visits at the Union Halls are suspended. Please call 973-671-6900 for assistance.
In addition, all official Funds and Union Hall business correspondence may be placed in the locked drop box in the lobby of 65 Springfield Ave. Springfield, NJ. If you haven't already accessed the Local 825 app, do so now and consult it regularly for news and announcements.
These unprecedented steps have been reached after consultation with our own staff of nurses and other health care professionals. We take these actions to protect our members, visitors and office personnel. Thank you for your patience and understanding as we continue to navigate these challenging circumstances. We encourage you to take all health precautions to protect yourself and your families.
In the meantime, please practice the basic rules of hygiene and prevention that can be found on the Centers for Disease Control (CDC) website: www.cdc.gov.
March 11, 2020
8th Annual Golf Outing is RESCHEDULED for Saturday, September 19th, 2020