International Union of Operating Engineers Local 825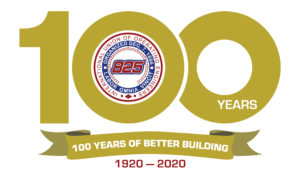 2020 begins the second century for the IUOE Local 825. From our charter in 1920, we have participated in the construction of the largest infrastructure achievements throughout New Jersey and our five counties of New York State. Our members have helped to build the major crossings of the Hudson and Delaware Rivers; the highways and transit systems that crisscross our communities; the high-rises, stadiums and other megastructures that define our skylines and define our daily lives. Watch for periodic postings commemorating our construction achievements over the past 100 years and news of projects we're looking forward to as we begin our second century.
Better Building Begins Here
Local 825 Operating Engineers are highly trained and experienced heavy equipment operators, mechanics, and surveyors who offer unsurpassed productivity to contractors throughout New Jersey and five counties in New York's Hudson Valley.
Our more than 7,000 members are part of the International Union of Operating Engineers, comprising a workforce of 400,000 throughout the United States and Canada.
With our training, experience and drive, we build value for our contractors. We do the job right the first time, on time and on budget. In exchange, we ensure that our members are treated fairly and viewed as part of the team.
New Mission Statement:
Prepare for a Changing World
Recognizing the rapid changes in the workforce and technology, Local 825 has updated its mission statement to prepare its members for the challenges and rewards that face them.
The new statement reads:
The International Union of Operating Engineers (IUOE) Local 825's mission is to equip its members with the educational resources for developing the skills of their apprentices and journeypersons. It is to recruit a diverse membership and operate under a strategic plan to create an inclusive environment. By facilitating the training needs of our members, we maximize their employability and prepare them for changes in the industry. The Department goal allows members to acquire new skills and remain competitive in the industry, while remaining fiscally responsible to the beneficiaries of the fund.